Happy Raksha Bandhan Wishes and Messages for sister: Raksha Bandhan is one such festival which is celebrated with great pomp and enthusiasm all over India and also in many other countries. In this festival, you get to see the unwavering affection of brother and sister. The Sister ties Rakhi in brother's hands and brother promises to protect her throughout her life. Regardless of the age of the person, but he/she is eagerly waiting for this day. And for this day in the mind of every person, there is great love and love. In the relationship of siblings, there is also a fight between brother and sister. After growing up, whether it is a sister or a brother, there are many memorable moments associated with this day in their mind.
On this day, whether sister or brother, wishes each other with happiness and love. In this article too, we have prepared many types of specials wishes and quotes for you. We hope that you will get help and you can express your mind and your inner thoughts clearly with other peoples.
Happy Raksha Bandhan | Rakhi 2020
In festivals like  Rakshabandhan, every person, every brother or sister wishes each other by sending special wishes and quotes to each other, but some people get stuck in expressing their views. He is not able to express his thoughts in a good way, so we have made some special wishes and quotes, with the help of him you can solve your problem.
See More:- Happy Rakhi wishes and quotes for soldiers
Happy Raksha Bandhan wishes for sister & wishes for Raksha Bandhan
I often miss that era
Call me brother in your sweet voice
Wake me up for school in the morning
Brother's sister's love has come with a rakhi
– Happy Rakshabandhan
Celebrate the bond of love and trust
Always get the blessing you ask
Rakhi festival, brother come early
Get Tilak from your lovely sister
– Happy Rakshabandhan
Sister is probably the most competitive relationship within the family,
But once the sisters are growing up,
This becomes the strongest relationship.
– Happy Rakshabandhan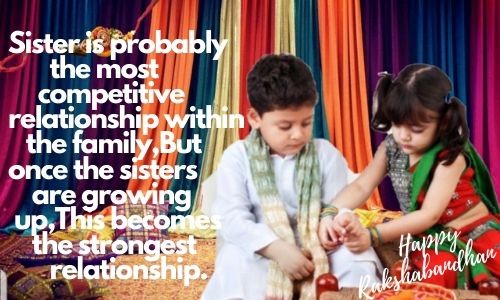 I pray to God that we can have a bond
Love continuously grows stronger.
– Happy rakhi
50+ Happy Raksha Bandhan Wishes and Message for younger Brother
Raksha Bandhan message for sister & Raksha Bandhan msg for sister
Our togetherness is like an invisible thread
Which is tied to our love.
-Happy Rakshabandhan
On this thread,
Let's get back alive
Childhood feeling,
Play pranks with each other
And become that infrequent sibling
We always were.
– Happy Rakshabandhan.
See More:- Raksha Bandhan Quotes & SMS for Elder Brother
Happy Raksha Bandhan reply to sister
If your sister makes you special wishes on the day of Raksha bandhan, then it is also very important that you send her special wishes and describe your love and emotions towards them, that's why we have made messages on your behalf for your convenience. That you can send as your reply…..
May God grant you a happy, long,
and healthy life. Happy Rakhi, dear sister!
God could not take care of the whole world
Therefore he has given mothers to each family.
Could not take care of the mother in the same way
For the whole part of our life,
So he gave it to the brothers.
Thank you for being my brother.
– Happy Rakshabandhan.
Happy Raksha Bandhan to my sister & happy Raksha Bandhan sister
It leaves a smile on my face once I consider those trifling fights we had and suddenly wont to structure. The memories may dissolve with passing time but the love we share will only grow. Happy Raksha Bandhan, Dear Sister.
Happy Raksha Bandhan to a Sweet Innocent Super Talented Extraordinary Remarkable who has everything. Have a beautiful day.
Conclusion
Share with your family, friends, and loved ones to maintain your great feeling and love for them. For more Indian and Hindus festivals visit our website Hindu Parv.